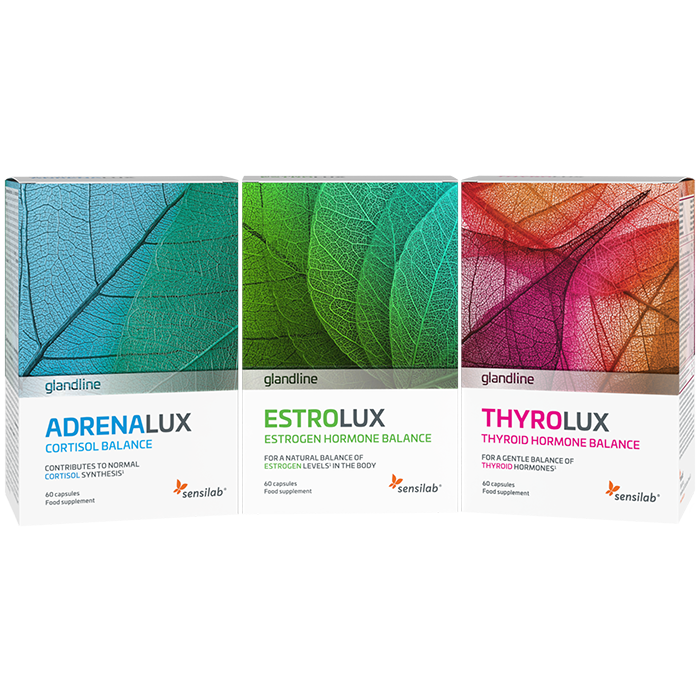 *Disclaimer: The effects of the product may vary between individuals and could differ from those described on the website.
I've been taking ThyroLux for five months now and I've noticed some really pleasant changes. I feel stronger and full of energy! Even my focus has improved and it has helped me with both my work as well as my studies!
They helped balance my hormones, and in turn, this has helped my skin clear up and made me feel great overall!
"Struggling with stress or sleep? Find peace with AdrenaLux. This product helps reduce stress and insomnia and boosts concentration."
"I started taking ThyroLux 6 months ago and I have noticed both my metabolism and sleep improving. My skin and hair look much better. I have regained my concentration and my mood has gotten better. Moreover, I have regained a lot of energy!"
I've been using these Sensilab EstroLux hormonal balance capsules and they're a game changer! Female hormones can really make you feel rubbish and these one-a-day capsules with all-natural ingredients can help balance everything out and make you feel better!
"Feeling more zen thanks to this natural stress relief from Sensilab. AdrenaLux helps with productivity, reducing stress and sleeplessness and improving concentration. "
"Stress levels have a huge impact on our health and well-being. Allowing yourself to relax and just be is so important! Thanks to Sensilab for making me realise the importance of reducing stress and finiding inner peace!"
"I have more energy, my mood is stable, I'm not as bloated and it's eased menstrual pains. I also lost a little bit of weight!"
It's helped me feel calmer, I have more energy and my sleep has improved.
"ThyroLux from Sensilab is a 4-in-1 product that balances thyroid hormones, promotes weight loss, improves focus and strengthens skin and hair. It's natural and completely hormone-free!"
"I've had the chance to try this fantastic product. AdrenaLux helps reduce fatigue and exhaustion and boosts energy. It's the perfect product for me right now!"

FREE GIFT!
Get the best health tips, nutritional advice, and delicious recipes in one handy e-book!

*Disclaimer: The effects of the product may vary between individuals and could differ from those described on the website.
Contents: 1x Hormonal Balance Bundle 180 capsules/30 days
The ultimate combination of carefully selected natural and hormone-free ingredients that help maintain hormonal balance.
reduces symptoms of burnout
protects from physical and mental stress
help detoxify the liver
improves the metabolism
ensures hormonal balance
supports the immune system
Delivery will be longer due to high demand.
Contents: 1x Hormonal Balance Bundle 180 capsules/30 days
-

53

% discount

+ Free delivery
Free delivery
Special price
€36.99
Regular price
€77.99