The number 1 complaint menopausal women have is weight gain
During menopause, women often gain weight due to a number of factors – declining oestrogen levels, age-related loss of muscle tissue, lifestyle choices like diet and lack of exercise. Studies** show that lower oestrogen levels may also cause increased appetite.
As the oestrogen levels drop, the metabolism slows down. Mid-life pounds are more likely to be stored around the abdomen, rather than on the hips and thighs, as was the case during the childbearing years. Not only does this cause difficulties fitting into a favourite dress, but excess weight around the waist can also have health implications.
Comon symptoms of menopause
Menopause marks the end of the menstrual cycles. It usually occurs when women are in their forties or fifties. Hormonal changes can cause discomfort – in fact, over 80%** of women experience signs of menopause like hot flashes – and these can significantly impact their life quality. The symptoms can appear as early as in your 30s! You may notice:
Irregular periods

Weight gain

Slow metabolism

Increased appetite

Vaginal dryness

Chills

Hot flashes

Night sweats

Sleep problems

Mood swings

Libido changes
M-Pause- combats naturally menopuase symptomes





Top-quality hormone-free and soy-free ingredients
Feel like yourself again with only 1 capsule a day!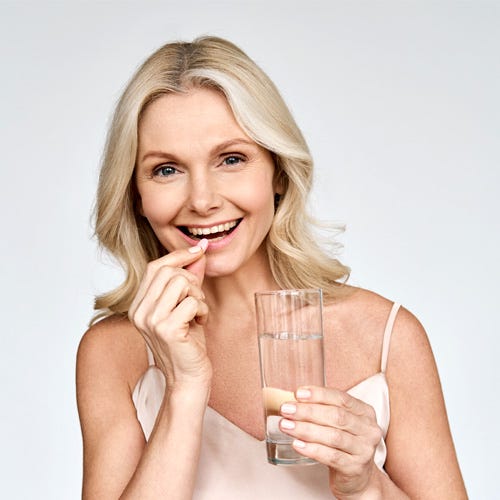 Relieve the symptoms of menopause with M-Pause! These plant-based capsules will make it easier to lose and maintain weight with the help of chicory root.
M-Pause capsules will help you reduce hot flashes by 4x* in 6 weeks! Studies** show M-Pause can also help you reduce night sweats by 2x* in just 8 weeks.
Hop extract Lifenol® will help you relieve other symptoms of menopausal discomfort like irritability, sleep problems, headaches, weight gain, mood swings and low energy.
Regain your wellbeing and feel like yourself again with hormone-free M-Pause capsules!
Best offers - try it now!
Natural, hormone-free and soy-free menopause supplement that significantly reduces perimenopausal and menopausal symptoms, bringing much-needed relief.
Red clover for easing the symptoms of menopause?
About one third of all menopausal women experience symptoms such as reduced muscle mass, weight gain, high cholesterol and hot flashes.
Read more
See all blog posts
Heyerick, A., Vervarcke, S., Depypere, H., Bracke, M. and Keukeleire, D., 2006. A first prospective, randomized, double-blind, placebo-controlled study on the use of a standardized hop extract to alleviate menopausal discomforts. Maturitas, [online] 54(2), pp.164-175.
Bansal, Ramandeep, and Neelam Aggarwal. "Menopausal Hot Flashes: A Concise Review." Journal of mid-life health vol. 10,1 (2019): 6-13. doi:10.4103/jmh.JMH_7_19