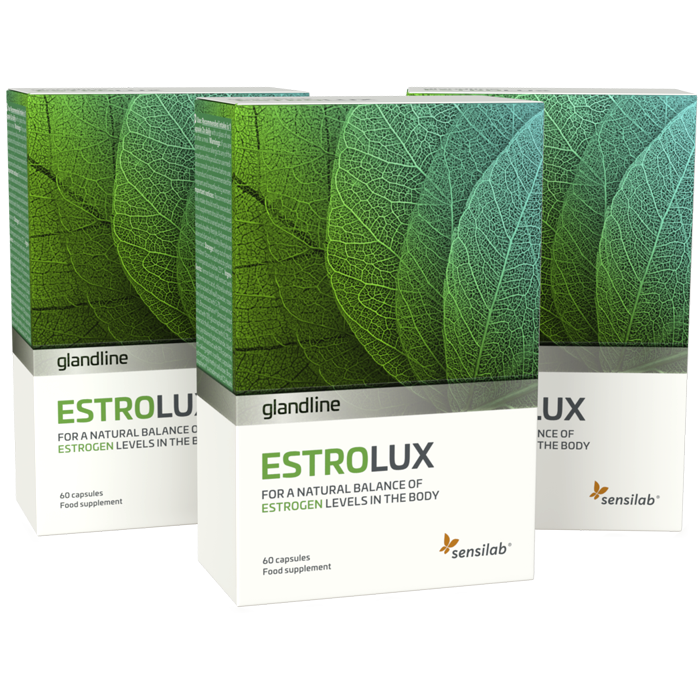 *Disclaimer: The effects of the product may vary between individuals and could differ from those described on the website.
They helped balance my hormones, and in turn, this has helped my skin clear up and made me feel great overall!
I've been using these Sensilab EstroLux hormonal balance capsules and they're a game changer! Female hormones can really make you feel rubbish and these one-a-day capsules with all-natural ingredients can help balance everything out and make you feel better!
It's helped me feel calmer, I have more energy and my sleep has improved.

FREE GIFT!
Get the best health tips, nutritional advice and delicious recipes in one hand e-book!

Hormonal imbalance relief
EstroLux - Hormonal Balance Trio
Weight gain, bloating, cellulite, sleep problems, irritability, and fatigue can all be signs of excess oestrogen. Estrolux provides a natural hormonal detox and can help restore hormonal balance. Its 3-in-1 action blocks, deactivates and expels excess oestrogen.
Supports weight loss, especially on the hips, thighs, and buttocks

Relieves irritability, mood swings and discomfort before your period

Helps you relax and improves your sleep

Improves focus and maintains a positive mood – bye-bye brain fog

Supports liver detox

Helps with hormone-related skin problems

Contains iodine, naturally present in brown marine algae

NO soy, NO hormones, NO external sources of oestrogen

We guarantee you'll love it, or it's yours for FREE

Over 15 years of expertise in food supplement development and production
Join over 2.6 million satisfied Sensilab customers worldwide! 
Contents: 1x EstroLux - Hormonal Balance Trio 180 capsules/90 days
-

64

% discount

+ Free delivery
Free delivery
Special price
€27.90
Regular price
€77.70