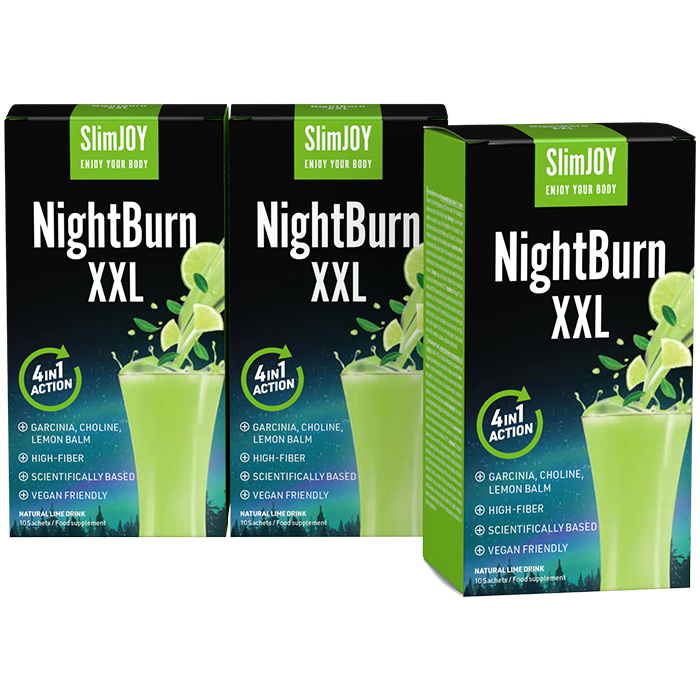 Food supplement with sweeteners
*Disclaimer: The effects of the product may vary between individuals and could differ from those described on the website.
That amazing feeling after a good workout, enjoying a SlimJOY drink in peace.
I want to introduce you to an amazing night-time fat burner. It tastes amazing. If you combine it with some exercise, even better.
With SlimJOY, you can burn fat even when you're sleeping... All you have to do is have a glass of this delicious drink before bed, instead of something unhealthy.
I've been taking NightBurn EXTREME for the last 2 months and I'm absolutely delighted with the results, I've lost 8 kg and fat around my belly, which was my goal. I've been taking 1 sachet of NightBurn every night before bed. I also ate healthy, cut down on junk food and sweets, drank plenty of water and exercised.
It's so delicious and helped suppress my late-night cravings. It's good for boosting your metabolism and keeping your liver, the main fat-burning organ, in shape... Plus, I slept like a baby and woke up refreshed!
A drink that helps burn fat at night and contributes to deeper sleep. Without stimulants!
Not long ago I got some products from SlimJOY and was very surprised. This drink helps burn fat at night and contributes to better sleep (something I really need). I definitely noticed felling more relaxed in the evenings!
I'm very happy, I feel lighter since I've been using it, I'm no longer retaining water and I've lost 8.5 kg in two months! I've changed my diet slightly and started exercising and the changes are visible. I'm 38 years old and it was the best way for me to lose weight.
After I started using it, I noticed the first changes after about a week. I noticed my clothes were loose and when I weighed myself I was pleasantly surprised - I had lost 6 kg
NightBurn should be consumed in the evening and it helps you burn calories and affects the burning of body fat. It tastes great, it's easy to pack to go and easy to use. After a workout, the body consumes calories for up to 24 hours after but NightBurn speeds up and intensifies this process.
It shows its effect very quickly and I lost weight much faster than with sports and a healthy diet alone.
I have more energy and I lost 5 kg in 3 weeks, without a strict diet. This drink has changed my life!
It's possible to lose weight at night! One sachet of this tasty lime-flavoured drink from SlimJOY before bed does the trick.
Goodbye swelling and welcome flat stomach! NIGHTBURN STRONG burns fat during the night, in fact you have to drink a glass in the evening before going to bed.
Fast and effective - in less than 2 weeks I feel lighter and more energetic!
I sleep better, I don't sweat anymore and I don't wake up during the night.
With NightBurn STRONG I felt no hunger in the evening at all!
I sleep better and how fast I have lost 20 kg. I noticed that the urge to snack in the evening was gone.
Anyone else suffering from hunger pangs that make you raid the fridge late at night? I have a glass of NightBurn EXTREME before bed, which helps improve my sleep and stops late-night cravings. It also helps boost fat burning during sleep!

FREE GIFT!
Get the best health tips, nutritional advice and delicious recipes in one hand e-book!

Night-time fat burner
NightBurn XXL Trio
CLINICALLY PROVEN: 2x* more weight loss with the ultimate night-time fat burner – all during a good night's sleep. Drop kilos while you rest for XXL results! 
Helps shrink the waistline 
Reduces late-night cravings 
Prevents calories from turning into fat 
Improves your sleep and helps you wake up refreshed 
Keeps the liver, your main fat-burning organ, in shape 
Contains no stimulants to disturb your sleep 
400,.000 happy customers have already lost weight with NightBurn XXL! 
Contents: 1x NightBurn XXL Trio 30 bags/30 days
-

59

% discount

+ Free delivery
Free delivery
Special price
€33.90
Regular price
€83.70