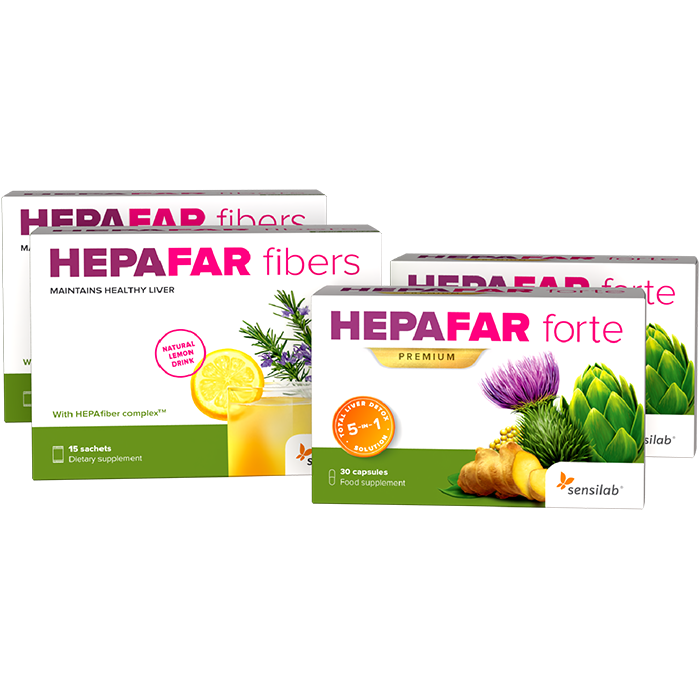 Food supplement
*Disclaimer: The effects of the product may vary between individuals and could differ from those described on the website.
"I have to say, I feel so much better and a lot fitter. It feels good to do something that benefits the body and helps you get in shape."
"I'm most thrilled about buying clothes that are 2 sizes smaller! I'm not where I want to be yet, but I'm so happy to finally see some results. My skin looks clearer too, I get acid reflux less often, my headaches disappeared! I could never image a simple liver detox could help me tackle all my problems. I feel great and I plan to keep taking Hepafar!"
"After just a month of taking Hepafar, I already feel so much better! I reduced my hip and waist circumference. I finally lost some weight and my pants got looser. My cholesterol levels decreased so much that I no longer have to consider taking any pills. But I think the biggest change I noticed was a change in the way I feel, as I'm bursting with energy and no longer need my afternoon rest after work."
"After the first 8 to 10 days, something magical happened. All of a sudden, I didn't feel tired anymore after I came home from work and I could finally spend quality time with my family. I've lost 8 kilos since I started using this product and my waistline has shrunk tremendously. I can finally fit into trousers that haven't fit me in years!"
"Hepafar Forte helped me recover from a long summer full of unhealthy meals. It restored my concentration and energy. I feel much happier."
"I no longer feel bloated and I've gradually started dropping weight. The change is especially noticeable in my hips. I've also lost some weight in the abdominal area and I feel so much better. The changes are incredible! I recommend it to everyone who'd like to do something extraordinary for their body!"
"Years of inadequate nutrition, stress and medication took a toll on my liver, causing fat to build up... I've been taking Hepafar for 3 months now and the results are very positive: my belly's gotten flatter, I've lost quite a few pounds and detoxified my liver. If you find yourself struggling because of an overburdened liver, I suggest you try Hepafar ASAP."
"I felt very tired , I had trouble getting up in the morning and I gained weight, which was especially noticeable in the abdomen. My lab results showed that I had an overburdened liver. After a few months of taking Hepafar, I lost a lot of weight, I lowered my cholesterol and triglycerides, my liver enzymes are back to normal and I finally started feeling better."
"I'd especially recommend these products to men struggling with abdominal fat. If you're struggling with your weight, especially in the stomach area, Hepafar is an extremely effective solution. I'm the proof!"

FREE GIFT!
Get the best health tips, nutritional advice and delicious recipes in one hand e-book!

Liver Cleanse Detox Combo
Hepafar Detox Combo
Intensive 1-month Hepafar liver cleanse starter combo with a 5-in-1 effect for a complete liver detox! With maximised bioavailability for powerful effects!
The ultimate capsules + drinks programme for the perfect liver cleanse. This combo of powerful natural ingredients will help you eliminate toxins from the body and improve liver function.
Detoxify, regenerate and strengthen your liver

Eliminate toxins from your body for good

Boost energy and vitality

Support liver fat metabolism

Helps manage inflammatory response

Get maximum benefits with 2 revolutionary formulas

Natural active ingredients only

Hepafar Forte PREMIUM contains artichoke, VitaCholine®, dandelion, ginger, vitamin E, selenium, zinc and black pepper

Hepafar Fibers contains acacia gum fibre, chicory root extract, rosemary extract and lemon juice concentrate

Suitable for vegetarians and vegans

The bundle contains 2 boxes (2 x 30 capsules) of Hepafar Forte PREMIUM and 2 boxes (2 x 15 sachets) of Hepafar Fibers

We guarantee you'll love the products, or they're yours for FREE

Over 15 years of expertise in food supplement development and production
Sensilab has more than 2,600,000 happy customers all over Europe.
Contents: 1x Hepafar Detox Combo 90 units/30 days
-

56

% discount

+ Free delivery
Free delivery
Special price
€34.90
Regular price
€79.96